5th IRCE | Tianjin, China

It is our great pleasure to invite you to join The 5th International Conference on Intelligent Robotics and Control Engineering (IRCE 2022), which will be hosted in Tianjin, China during September 23-25, 2022. IRCE is co-sponsored by Tianjin University, China, Lanzhou Jiaotong University, China and Singapore Institute of Electronic, Singapore. This event will provide unique opportunity to have fruitful discussions about Intelligent Robotics, Automations and Control Engineering, and best practices that address Artificial Intelligence. The IRCE conference aims to foster interdisciplinary and international collaboration opportunities, and strengthen domestic and international recognition in pure and applied research for the participants.
智能机器人与控制工程国际会议已成功举办四届。第五届智能机器人与控制工程国际会议(IRCE 2022)将于2022年9月23-25日在中国天津召开。 IRCE将继续致力于为专家学者提供一个良好的学术交流平台,就智能机器人、自动化和控制工程等相关领域交流意见以及分享经验。

CONFERENCE PROCEEDINGS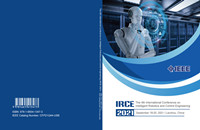 Accepted and presented papers will be included in IRCE 2022 Conference Proceedings. The proceedings will be published by IEEE and archived in IEEE Xplore, and will be indexed by Ei Compendex and Scopus, etc.
被录用的文章将出版到IRCE会议论文集。该论文集由IEEE出版,被IEEE 数据库收录并实现Ei 核心和Scopus检索。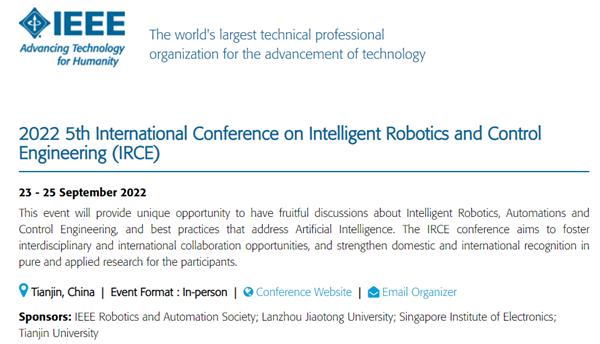 !! Good News ☆ IRCE 2022 was included in IEEE event list! (Read More)
IRCE 2022已进入IEEE官方会议列表! (点击查看)

Proceedings History | 历届论文集
IRCE 2021-IEEE | ISBN: 978-1-6654-1347-3 | IEEE Xplore | Ei Compendex & Scopus
IRCE 2020-IEEE | ISBN: 978-1-7281-8971-0 | IEEE Xplore | Ei Compendex & Scopus
IRCE 2019-IEEE | ISBN: 978-1-7281-4192-3 | IEEE Xplore | Ei Compendex & Scopus
IRCE 2018-IEEE | ISBN: 978-1-5386-7415-4 | IEEE Xplore | Ei Compendex & Scopus